I've written this post over the last three days, and can't really articulate exactly what I want to say. Please forgive me if it's a little disjointed and soppy.
The first time I can vaugely remember listening to The Band was in a pushchair, being forced up Haverstock Hill to nursery. An early adopter of headphones, I was quick to commandeer my dad's Walkman, and he wasn't getting it back. I had managed to steal three tapes (in retrospect, they were probably just the ones I was allowed) and The Best of The Band was one of them. I didn't know who any of the people were - reading liner notes wasn't my strong point as a four year old - but I knew what I liked. Not long after, I got hold of a copy of Rock Of Ages - for my money one of the best live albums of all time.
"My biggest mistake was loving you too much and letting you know
Now you've got me where you want me and you won't let me go"
It was some years later that I discovered, to my surprise, joy and slight amazement, that the guy that sang all my favourite songs also played drums on all my favourite songs. Oh! The horse-gallop snare fills and precision ride cymbals came from the same place as that voice. Watching The Last Waltz only served to increase my wonder - sitting side-on, holding his drum sticks with a traditional grip and wailing into a microphone, this guy was it. He played drums with a real funk kick, and he sang like a bastard child of the blues and country music, and he managed to make it cool.
The Band's break up is well documented, as is Helm's first battle with throat cancer and recovery, so I won't go through it all again here. But his resurgence gave us his legendary Midnight Rambles (and their live recordings) and two studio albums, which have supplied much to enjoy. Anna Lee (a cover that appeared on 2007's Dirt Farmer) in particular is a song that I have to be feeling particularly strong to listen to in order to be confident of remaining dry-eyed.
"

I'll return to you, dear, in the dimming of day, as the sparrow returns to her nest
I'll return to you dreaming with each lullaby, hold your sweet weary head to my breast"
I could write for a lot longer, and I know I'll be thinking of things that I should have included in the post for the next few days, but I'm going to leave it. Suffice to say, in the passing of Levon Helm I feel I have lost one of my true heroes, and a musician who helped shaped my taste and identity as a listener and a performer. It is heartening to read all the comments from his friends, family and other musicians that paint him as such a kind, modest and talented man.
There were two tracks I had in mind for closing this post, but this one had to win out in the end. The joy you can hear in Levon's voice, the band's playing and the crowd's reaction is infectious, and for me it's one of those songs that after hearing once, will stick with me forever. Most important though, is the message - perhaps said in strong words - that today we can interpret with fitting sentiment: whilst we may have lost something wonderful, there is more to celebrate. The Battle Is Over, But The War Goes On.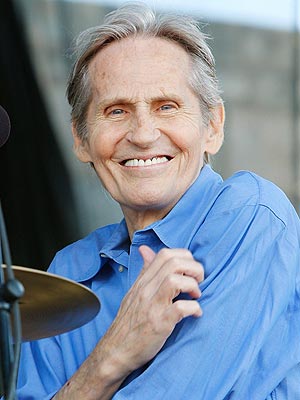 R.I.P. Levon Helm, 1940 - 2012